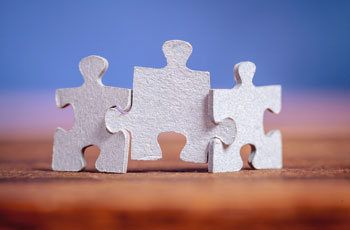 What's more fun than having your furnace conk out right in the middle of winter? Lots of things, like… going to the dentist, long division, or even watching curling on TV (
actually, I do like watching curling
).
As I interacted with the Service Technician, the Salesperson, and finally the Installer, I was reminded of 3 easily implemented skills — key pieces to the sales success puzzle for any service or sales professional. First, a bit of context for my perspective as a furnace-buying customer:
One of my long-term clients is the largest, independently owned, residential HVAC and Plumbing company in the U.S. and Canada who recently won the 2015 BBB Torch Award for Marketplace Ethics.1 For many years, I trained over 500 of their customer service reps, sales staff, field technicians, and managers on how to build solid customer relationships to resolve issues and maximize sales opportunities. This experience, along with having worked for service companies in the past, has made me hyper-aware of the power of communication in service industries.
Since the above-mentioned client only services Chicagoland and Northwest Indiana, we ended up doing what many people do when their furnace dies — we reached out to friends for recommendations and read online reviews before making our choice and picking up the phone to schedule a service call…
The Service Technician  (The Power of the Pre-Close)
The technician who came to our home was professional and thorough, and even after finding an easily fixed, failing ignitor within the first 15 minutes, continued his inspection. I had high hopes that our furnace would be back up and running that night until I heard him ask if I had another source of heat because of a flawed heat exchanger. The first word that came to mind is not suitable for print here.
As we discussed scheduling a salesperson to come out and quote a new furnace, he made the following statement:
"If you sign a contract for a new furnace, we'll supply you with space heaters until we get it installed."
Did he just say, "If?"
While that simple word may not seem like such a big deal, let's shine a bit of light on the situation: I called their company to help me out, and even mentioned to the technician that we have several friends who recommended them. So the real question is: Why would a service professional make a statement that includes not buying as an option?
A pre-close statement is an assumptive phrase (or question) that sets up a future closing situation. It does so by choosing words that help put the customer in the mindset of doing business. The following revision puts the customer (in this case, me) in that mindset:
"When we get you scheduled for the new furnace install, we'll make sure you have some space heaters until we get you up and running."
Sounds cleaner, more personal, and says in a respectful, non-salesy way: "We're going to help you out." When compared to the original phrase, it's easy to see how awkward and separative a non pre-close statement sounds. These types of subtle phrasing changes are often overlooked and have a direct impact on closing percentages.
There's also a secondary assumptive element in the above example: using "the new furnace" instead of "a new furnace."
As a quick side note, I'm not a big fan of words like "sign" and "contract." There are less harsh ways to present these types of decision actions, as in the revised phrase: "…schedule the new furnace install…"
The Salesperson (How to Drop Your Price)
Since my client and this company are both Lennox dealers, I told the salesperson I would be calling my client's Executive Sales Director (Thanks, Jeff!) to review the suggested equipment and pricing. Long story short, after making that call our salesperson agreed to drop his price. I got what I wanted, but was that the right thing for him and his company?
No.
Without addressing the often-debated topic of whether or not a salesperson should every drop their price, there's one rule to follow if you choose to do so:
Always give a valid reason if you drop your price.
The customer wanting a better price is never a valid reason. As soon as our salesperson dropped his price simply because I asked, he basically said his first price was inflated and that he could have given me a better deal from the beginning. Yikes! What happened to his credibility? To avoid such a disaster, he could then have presented some valid alternatives to lower the price:
Remove/change solution options
Revisit previously presented, alternative solutions
Offer to find out if he can provide any additional warranty
If none of that worked, he could have called his manager and asked something like:
"I'm here with Mr. Strauss and he's worked with another Lennox shop in Chicago for years. Since this is kind of a unique situation, is there anything we can do to help him out with the price?"
Dropping price simply because the customer wants a lower price is one of the quickest ways to lose credibility and ruin the customer relationship — oftentimes forever.
Even more disturbing is the customer will rarely (if ever) verbalize that they no longer trust you because of this. They will simply say things like, "We're getting other quotes." or "We need to think about it." I've seen far too often where sales and service professionals never even knew they were manufacturing this problem, all while believing they were doing the right thing for the customer and themselves.
The Installer (Using the Customer's Name)
The install crew did an excellent job and even kept me informed of the progress throughout the day. However, when they did so, the install lead would call out from the furnace room:
Sir?
You might be thinking, "What's wrong with that?"
I find it fascinating that the subject of using the customer's name instead of "Sir" or "Ma'am" is the skill people want to debate the most. Perhaps the most heated objection comes in the form of, "My parents taught me that using 'Sir' and 'Ma'am' are signs of respect. So I never use the customer's name."
While I'm typically a diplomatic communicator, I'll be blunt here: "That's fine, but… you're not 7 years old anymore." Using the customer's name (first or last, depending on the situation) in modern communication is more respectful.
Any wording that reinforces the perception that it's the company on one side of the table and the customer on the other needs to be changed — using the customer's name is one of the most important tools to build a relationship and put us on the same side as the customer. There are endless values to this — including being respectful.
When the install team arrived, I introduced myself to the install lead as "Mark." This immediately gave him permission to call me by my first name which opened the door to tons of value to both he and his company:
In the event of an unforeseen issue, the experience is personalized which diminishes frustration through trust that the professional is looking out for the customer's best interest. I refer to this as "immunizing the relationship." Building a relationship from the beginning affects the customer's perception of everything that follows, both short-term and long-term.
From a sales standpoint, being personal allows for dialogue. We're all looking for companies to trust. An open dialogue with a professional who has built relationship and trust allows for introductions to other products/solutions — and there are LOTS of these opportunities in the HVAC industry.
It's a key ingredient for establishing the long-term relationship with the company for repeat business and, of course, referrals.
Can something as simple as moving from sir and ma'am to the customer's name create all that? Absolutely!
Additionally, in customer service situations, the risk of sounding condescending or argumentative is maximized when using "Sir" and "Ma'am," and there's a missed opportunity to bring relief by effectively using the customers name.
If you're uncomfortable with using a customer's first name, then use "Mr. or Mrs." Also, when in doubt whether you should use the first or last name, err on the side of the last name. If they want you to call them by their first name, they will tell you — which is always a great sign you've built rapport.
The Heat Is On!
Subtle pre-close tweaks, dealing with price professionally, and building relationships with customers by using their name have the power to immediately increase sales percentages. I've seen implementing just a handful of simple skills like these increase success conservatively by 5%. What does that mean to you and/or your company's annual revenue?
Although this article contains suggested improvements based on this recent experience, the company that helped us out did an outstanding job. As I write this, it's a comfortable 71 degrees in our home!
* * *
1 While this link is allegedly included here to reference the positive results of working with this client, it's actually a shameless plug for both of our companies.