Where Brand and Communication Meet
What happened when we trained 500+ office and field staff at the largest residential HVAC and Plumbing company in the U.S.?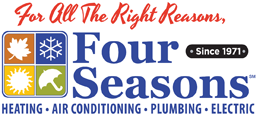 Most HVAC and Plumbing companies have 3-10 employees. Four Seasons has well over 500 and continues to grow. With 350+ vehicles on the road, they are able to quickly serve customers throughout all of the Chicagoland area and Northwest Indiana – 24 hours a day, 7 days a week, 365 days a year. Continuing to build upon this legacy of quality service makes Four Seasons the largest, independently-owned residential HVAC Company in the U.S. and Canada, with over 380,000 customers.
We are proud to have helped build an effective, innovative sales and customer service communication structure throughout Four Seasons that continues to maximize the success of over 1.4 million annual phone and in-person customer interactions.
Consulting services provided: Sales Training, Customer Service Training, Strategic Partnerships, Branding and Marketing, TV Commercial Production, ERP & CRM Implementation, and more.
The BBB Torch Award for Marketplace Ethics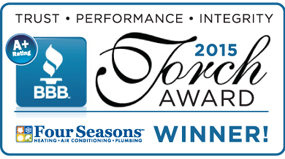 The Better Business Bureau's annual Torch Award for Marketplace Ethics is by far their most prestigious award. In 2015, Four Seasons – already an A+ Rated business for many years – became the only HVAC and Plumbing contractor in Northern Illinois to ever receive this honor. The BBB's thorough selection process examines every aspect of each nominee's business practices, including initial and ongoing training, truth in marketing, customer service, and sales practices.
Our top priority is crafting effective communication to establish and maintain lasting, positive customer relationships. Needless to say, we are very honored to have our efforts recognized by the BBB — and pleased to have played a vital role in the success of one of the most respected brands in the HVAC industry.
"Mark's unique blend of training and marketing expertise helped create a powerful communication foundation here at Four Seasons. The ongoing growth and cultural impacts are seemingly endless, including winning the 2015 BBB Torch Award for Marketplace Ethics. Everything Mark brings to the table has both short and long-term goals in mind, and always has the customer relationship as the top priority."
"My experience working with Mark Strauss over time is that he is a positive and energetic force. Mark specializes in making a difference and was instrumental in transforming the culture of our organization. He is a thinker, but applies the rule that 'People don't care how much you know until they know how much you care.' Mark is versatile in terms of what he can be entrusted with; from training, to brand awareness, to creating and implementing a consistent marketing message."
What do others have to say about working with us?
The Strauss Training Difference
Brand-aware communication training for a consistent, global message

Best-in-Class ICF Accredited iPEC Energy Leadership™  Coaching

Organic communication solutions, designed down to the word and phrase

Organic staff motivation for optimal, long-term results

Solutions molded specifically to your industry, business model, and company culture

Measurable ROI for revenue, cost-savings, and employee retention
Recent News & Articles
Mark Strauss
DISCLAIMER: The suggested language improvement covered here may (at first) seem way too simple to have a major, positive impact on your business. Trust me, [...]
Mark Strauss
Allison recently did a seminar for area restaurant and hospitality professionals titled "The Art of the Menu." This two hour session covered menu mix, food [...]